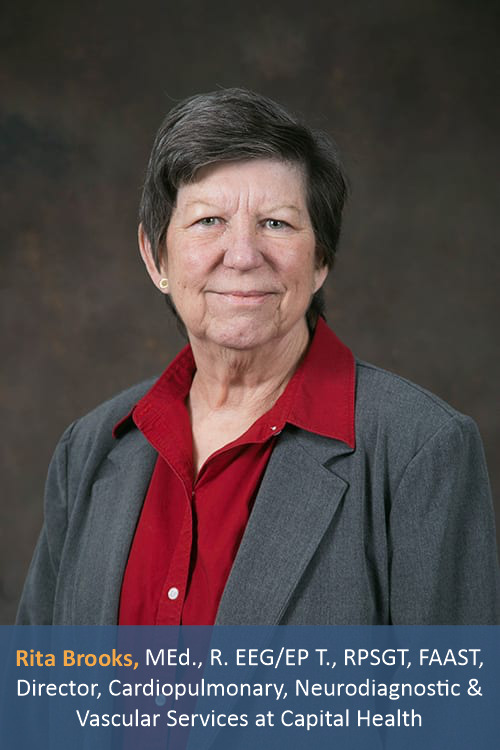 Could you introduce yourself and tell us a bit about your professional and academic background?
I am the Administrative Director of the Sleep Center, Neurophysiology, Cardiology, Pulmonary Function Lab, Vascular Laboratory, LTM Epilepsy Unit, Audiology, Cardiopulmonary and Vascular Rehabilitation Services, and Interventional Pulmonary Services at Capital Health in Trenton, NJ. I started my career at Capital Health as an EEG technologist trainee, became a manager, and then an administrative director, serving in this role since 1998. I have 42 years of experience in Neurodiagnostic and 34 years of experience in sleep technology.
I have been very fortunate to have had support from Capital Health leadership over many years to continue my education and grow in my professional career earning an AS in Neurophysiology, BSBA in Healthcare Administration, and a Master's in Education. Over the years I developed many of the services that I am currently responsible for including the Sleep Center, Audiology, the LTM Epilepsy Unit, Pulmonary and Vascular Rehab, and the Interventional Pulmonary program.
I am very proud to say that Capital Health has also supported all of my professional endeavors in the world of sleep medicine including working at the state level to enact legislation for sleep technologists in New Jersey, assist with legislation efforts in other states, and serve as a leader at the state and national level. I have been involved in supporting and representing sleep technologists since 2003, serving on the American Association of Sleep Technologists (AAST) Board of Directors from 2007 until 2020. I have also been professionally involved with the American Academy of Sleep Medicine (AASM) since 2009, serving on several committees, most notably as a Scoring Manual Committee Member and then Editorial Board Member from 2009 through 2017, and presenting at national meetings. I am currently working with the Scoring Manual Committee to edit the next edition of the scoring manual being published early next year.
How important is the American Association of Sleep Technologists (AAST) for standardizing and improving US sleep exams and diagnoses?
The AAST sets the standards for the education of sleep technologists, providing technical guidelines based on AASM standards and guidelines, developing learning materials suitable for sleep technologists from entry-level to expert level, and publishing the Fundamentals of Sleep Technology textbook and workbook. The AAST has many members who also volunteered with the Board of Polysomnographic Technology (BRPT) developing and supporting technologist credentialing examinations. These examinations are based on many of the resources AAST has developed, in particular the Fundamentals of Sleep Technology textbook, now in its 3rd edition.
To what extent have you worked/developed with the Association of Sleep Technologists (AAST) as a member and president?
As a member of AAST starting in 1989 (when it was known as APT), I relied on the organization for my education for many years, attending all national and many regional meetings as we were learning sleep technology and building our sleep centers. I used much of the material developed by the AAST to educate myself and my team and to assist technologists we were training to prepare for the RPSGT credential. As a member of the board of directors, one of the first things I was involved in was assisting to develop technologist training materials, including study guides, flashcards, and practice exams for those preparing for the credentialing exam.
I served as Board Liaison for the Governmental Affairs Committee and the Educational Products Committee before my two terms as AAST President from 2013 to 2015 and 2017 to 2019. During my tenure on the AAST Board of Directors I also collaborated with Dr. Richard Rosenberg and Cynthia Mattice to publish the AAST's A Technologist's Guide to Performing Sleep Studies and with Cynthia Mattice and Dr. Teofilo Lee-Chiong as a co-editor of the Fundamentals of Sleep Technology, 2nd edition in 2012, the Fundamentals of Sleep Technology Workbook in 2015 and the Fundamentals of Sleep Technology, 3rd edition in 2019 along with contributing to several chapters in these publications and contributing to several other textbooks. We at the AAST are extremely proud of these excellent publications, with many chapters contributed by our esteemed members, that serve as the backbone of learning for sleep technologists and as reference works for the development of credentialing examinations. AAST continues to develop learning tools for technologists at all levels, including advanced training in pediatrics and PAP titration and specifically for those seeking the Certified Clinical Sleep Health (CCSH) credential offered by the BRPT.
What was your contribution to the development of "The AASM Manual for the Scoring of Sleep and Associated Events" and on which topics did you focus the most?
I served on the AASM Scoring Manual committee as a Scoring Manual Committee Member and then Editorial Board Member from 2009 through 2017, contributing to versions 2.0, 2.1, 2.2, 2.3, and 2.4 of that publication. During my tenure on the AASM Scoring Manual Board, my contributions to the scoring manual updates included adding the technical and patient calibration rules and the Home Sleep Apnea Testing (HSAT) section of the scoring manual. I am currently working with the Scoring Manual Committee to edit the next edition of the scoring manual being published early next year.
In your opinion what are the biggest challenges for professionals who work as sleep technicians in the US?
In 2021 the AAST conducted a workforce assessment to better understand current and anticipated market conditions in the field of sleep technology and to guide educational planning for sleep technologists in the US. Education is one of the biggest challenges for those in the field and AAST is well-positioned to address the educational gaps that were identified. As a result educational programs and tools focused on pediatric polysomnography and the expanded Certified Clinical Sleep Health (CCSH) role were developed to support growth in these areas. Higher level technical education related to PAP titration and virtual patient monitoring was also developed, to meet the need to develop the clinical role of the sleep technologist. As technology has advanced, there is also more focus on home sleep apnea testing (HSAT) for certain patient populations. AAST is also developing education to improve the use of this technology in appropriate circumstances and support the role of technologists in educating and managing patients being tested at home and recording and analyzing these studies.
Has your experience shown that it is advantageous for the patient, doctor, and sleep technician to perform home PSG/HST exams?
Following guidelines established by the AASM, we at Capital Health have used home sleep apnea testing (HSAT) for more than ten years to test those patients that meet criteria that suggest moderate to severe sleep apnea. In this selected population, HSAT is an excellent tool that allows faster turn-around time for diagnosis and treatment of these patients.
In your opinion what is the future of sleep medicine in the USA?
Sleep medicine continues to grow and develop in many ways. I believe that HSAT and likely even full PSG in the home will expand our ability to diagnose patients with sleep disorders. New technologies such as Inspire and collaboration with physicians providing this solution for sleep apnea patients are expanding the need for in-lab testing and titration. Many sleep centers are partnering with dental practices to offer oral appliance therapies. There is also an expansion of testing in pediatric patients as well as an influx of patients with many sleep disorders beyond OSA.
In your opinion how should sleep labs adapt in the future to survive?
Sleep labs need to widen their horizons and focus on a variety of sleep disorders, not just sleep apnea. I am fortunate to work with physicians who see many patients with movement disorders, insomnia, neurological disorders such as REM behavior disorder, seizure disorders, parasomnias, and pediatric patients. We do MSLT and MWT testing during the day and work closely with patients struggling with PAP treatment to improve their adherence to therapy and their health. Sleep labs need to be health-focused, not OSA-focused. We do full seizure and parasomnia monitoring as well as accept pediatric patients aged one year and older.
Since what year have you been working with Neurovirtual?
We have been working with Neurovirtual since 2014 when we replaced 14 beds and numerous reader stations in our two accredited sleep centers with this system.
Could you comment on your experience with the Neurovirtual?
Since our initial demo of the Neurovirtual equipment, we have worked with the same core team from the company. During our initial setup and implementation of the new system, key employees were onsite and provided excellent support for staff and physicians as well as operationalizing custom reports to meet our extensive reporting requirements. The team has been responsive throughout our experience with them.
Could you comment about how has it been your experience with Neurovirtual's BWIII PSG Plus equipment, which is used in Capital Health?
The primary reason we decided to go with Neurovirtual's system when we upgraded was the quality of the EEG signals. My original background is in EEG and although most sleep systems provide an adequate EEG recording, the quality of the EEG on this system was excellent and useful as we frequently test patients with neurological issues and pediatric patients with possible seizures, using a full EEG montage.
How has Capital Health's experience been with Neurovirtual's technical support?
Technical support has been good, getting increasingly better over the years. As with all systems, there have been glitches, and times when we thought we had lost a study, but the technical team has been able to recover data for us and we have been happy with the system's data management process. Working through several score sets (night tech, scoring tech, physician) when processing our studies has been straightforward and easier to manage than in some other systems we have used, so we like the data management features of the system.
We recently worked through an essential Windows upgrade and a Neurovirtual software upgrade with hands-on assistance from the technical team. They are also working with us to incorporate additional parameters now required for reporting into our numerous report templates.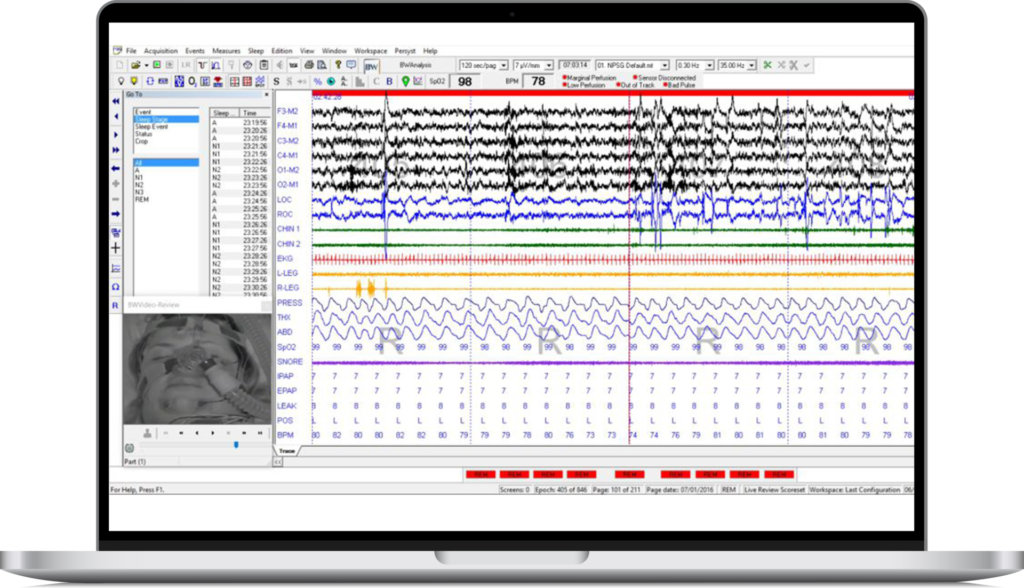 Would you recommend the Neurovirtual to other technicians and doctors?
We have been happy with the system as well as the support we have received from Neurovirtual and have discussed its merits and our experiences with the system and the company with others who have inquired. We recommend Neurovirtual to those who are looking for a stable system with excellent EEG (suitable for clinical EEG recordings) and the flexibility to utilize numerous recording montages and custom reporting of specialized data. We are considering this system as a replacement for our current clinical EEG system.