While good sleeping habits help improve quality of life and health, more and more, people are suffering from the impact of the disorders, making it a top priority to develop techniques, equipment, and knowledge to combat these symptoms. Under the motto, "Healthy Sleep, Healthy Aging", it was with this topic that the Mexican Society of Sleep Research and Medicine promoted the XIII Biennial Congress of Sleep Medicine, on October 16-19, in Monterrey, Mexico.
During the four days of the event, experts debated on the main themes related to sleep medicine, and promoted scientific research.  They also sought to disseminate the importance of good sleep and professional practice for the construction of an interdisciplinary scientific society accountable for health and well-being of the Mexican population.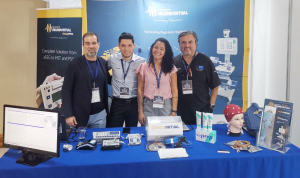 Dr. Walter Mario Camargo, Joseph Pardo, Jéssika Brito e o Dr. Rodolfo Lugo Saldaña
Concerned with making available to the market solutions that help improve life and promote the humanization of diagnosis, Neurovirtual took advantage of the Congress, to expose its equipment and promote its latest release, the HST Compass. An innovative polysomnography equipment that has electrodes capable of diagnosing bruxism, meeting the demands of specialists in the bucomaxylofacial and orthodontic areas, as well as sleep doctors and other specialties. The company also exhibited other products from its portfolio: the BWMini PSG/HST; the BWIII PSG and the BWIII PSG PLUS.
Renowned experts came to the booth to explore Neurovirtual's recent launch, such as Dr. Walter Mario Camargo and Dr. Rodolfo Lugo Saldaña. They were welcomed by employees Joseph Pardo, Business Consultant, and Jéssika Brito, Marketing Coordinator, who represented Neurovirtual during the event.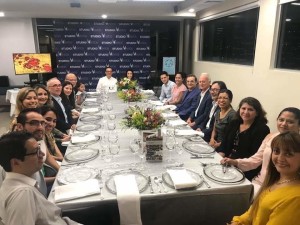 Another highlight was Neurovirtual's participation in a dinner with congress speakers, hosted by Dr. Francisco Guerrero, a doctor from Monterrey who works with BWMini PSG equipment at his Clinica del Dormir, based in San Pedro Garza García. It was another great opportunity to talk about important topics to the health sector.