The largest meeting and exhibition dedicated to epilepsy in the world, the Annual Meeting of the American Epilepsy Society (AES) attracted more than 5,000 professionals from different fields related to epilepsy and neurophysiology worldwide from December 6th to 10th in the city of Baltimore, Maryland.
Experts with different backgrounds and experience levels, such as neurologists, epileptologists, pediatricians, researchers and scientists, discussed how to improve the quality of life for people who deal with epilepsy.
The complete and diversified program included symposiums, informative and educational sessions, posters of presentations and practical workshops, enabling the exchange of knowledge about diagnosis and treatment, including new diagnostic methods, therapeutic modalities, and demonstrations related to epilepsy and its comorbidities. They also shared the most recent research and developments in the field of epilepsy with potential for application in clinical care and therapy.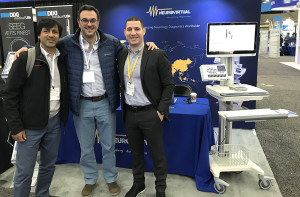 The topics that were highlighted in the program were: Basic Science Skills Workshop; Chronic In Vivo Recording: Single Unit to iEEG; The Future of the Stat EEG Critical Care Epilepsy; Quantitative and Automated CEEG Analysis; and Quality and Safety: Measuring Quality of EEG Interpretation.
Another spotlight of the event was the organized networking sessions which facilitated the exchange of information among participants with similar interests, providing the creation of valuable connections between professionals.
Neurovirtual highly values ​​the significance of this meeting for scientific advancement in diagnosis and took the opportunity to present its complete portfolio of solutions: the complete EEG monitoring system, the BWIII EEG Plus ICU Brain Monitor; the BWIII EEG designed for routine exams; the compact BWMini EEG for home exams and the BWAnalysis EEG/ICU/LTM software, represented by business manager, Sergio Solis.