The São Paulo Congress of Sleep Medicine happened at the Millennium Convention Center between May 4 and 5. More than 300 physicians were present at the event and Neurovirtual-Sleepvirtual was there to present their solutions to the sleep medicine area.
With an organizing committee composed of renowned professionals such as Dr. Rosana Cardoso Alves, Dr. Sonia Togeiro, Dr. Fernanda Haddad, Dr. Rosa Hasan, Dr. Maurício Bagnato and Dr. Luciano Ribeiro Pinto Jr., the congress addressed several topics, which we can highlight: Physiopathogenic Phenotypes of Obstructive Sleep Apnea (Dr. Pedro Genta), Narcolepsy and Autoimmunity (Dr. Leila Almeida), Insomnia in adolescents (Dr. Rosana Alves), Obstructive Sleep Apnea Morbidities (Dr. Beatriz Barbisan) , Parassonias and forensic implications (Dr. Alexandre Pinto Azevedo). During the congress, there were also discussions about the clinical cases of "Excessive Sleepiness" by FMUSP – Ribeirão Preto, " Insomnia" by FMUSP – SP and ", Respiratory Distress" by UNIFESP.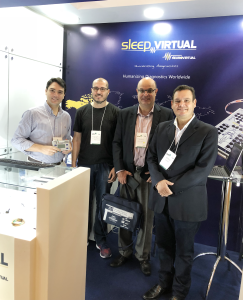 Neurovirtual-Sleepvirtual had the opportunity to present the new BWMini PSG to the professionals that attended the event. This complete home polysomnography device meets all the standards of the American Academy of Sleep Medicine (AASM). The BWMini PSG, performs PSG Type I, II, III, IV and Outpatient EEG examinations, has 42 channels, and a battery that supports up to 72 hours of recording the exam. The São Paulo Congress of Sleep Medicine is an extremely important event for Neurovirtual-Sleepvirtual, as it allows the exchange of experiences with several sleep medicine professionals, in order to develop new functionalities for their equipment.