Sleep specialists from Spain and other parts of the world met in Barcelona, Spain on April 26th-28th to participate in the XXVI Annual Congress of the Spanish Sleep Society, that had "Sleep well, strengthen your life" as the theme. The meeting reflected the importance of Sleep Medicine and overall quality of life.
In addition to renowned professional speakers from Spain and other countries, the program included some of the most current and novel aspects of sleep pathology, without forgetting the most traditional ones.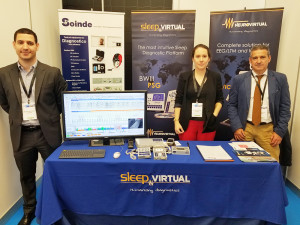 During the congress, Sleepvirtual presented its line of equipment, with the latest technology. Highlight for BWMini PSG, a lightweight and compact amplifier, designed for Type 3 HST upgradeable to Type 2 HST and Type 1 In-Lab Polysomnography also upgradeable to EEG Ambulatory. Another item presented was the BWIII PSG Plus, which allows the user to perform both In-Lab EEG and Polysomnography from the same hardware and software platform.