The Paraguayan Society of Neurology held the V Paraguayan Congress of Neurology and the I Regional Congress of Neurology between August 23rd and 24th at the Gran Nobile Hotel in Ciudad Del Este (Paraguay). The congress addressed important and controversial issues in Neurology and brought together about 300 participants, including specialists, medical students and nurses.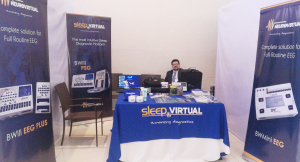 During the program, the Symposiums of Headache, Neuromuscular, Dementia and Abnormal Movements took place. Several speakers from Paraguay, Brazil, Uruguay and Argentina attended the symposiums. We highlight the presence of Dr. Marcelo Cicciarelli (Brazil), Dr. María del Carmen García (Argentina), Dr. Ricardo Buzo (Uruguay) and Dr. Cinthia Florentín (Paraguay). The Congress also promoted courses in Neuropediatrics, Nursing, Neuroinfectology, Neurological Emergencies and Neurosurgery, which also counted on the collaboration of Brazilian doctors such as Dr. Fernanda Quadros, Dr. Newton Moreira and Dr. Elton Gomes.
Neurovirtual has contributed to the training of specialists in Neurology, presenting the BWMini EEG equipment, a portable equipment that performs EEG home tests and contains 23 monopolar AC amplifiers for EEG and EOG recording. Neurovirtual employees also presented the BWIII EEG equipment, as well as other accessories. Neurovirtual is proud to be part of this event, which is a precious source of knowledge for neurology professionals.