In the early part of June 2017, the 31st Annual Sleep Meeting was held in Boston, United States, which was an annual meeting of the Associated Professional Sleep Societies (APSS) – a joint venture of the American Academy of Sleep Medicine and the Sleep Research Society. The traditional event focuses on evidence-based education, providing recent studies on the matter, extension courses and practical applications of the presented cases.
The SLEEP Meeting counted on the participation of specialists from around the world and, among them, the Brazilian neurologist from Porto Alegre, Dr. Geraldo Rizzo, coordinator of the Moinhos de Vento sleep disorder center.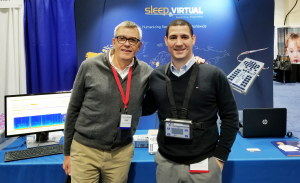 During the meeting, Sleepvirtual presented its cutting-edge equipment line, highlighting the BMMini PSG, a light and compact amplifier, designed for HST Type 3 upgradable to HST Type 2 and Laboratory Polysomnography Type 1 upgradable as well to EEG Ambulatory.
Another equipment that was presented was the BWII PSG Plus, which permits the user to perform both EEG and Polysomnography from the same hardware and software platform, in an equipment that can be transported easily from one place to another.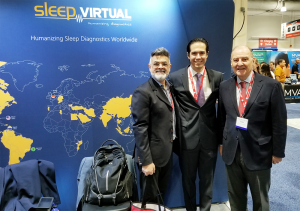 Felipe Lerida, Clinical specialist, and Ed. Faria, CEO of Sleepvirtual, represented the company at the 31st Annual Sleep Meeting. Ed. underscored this event's high-level researches and focus on education, which promotes, with this, career development for its attendees.