The XVIII Congress of Neurology, organized by the SEN -Sociedad Médica Ecuatoriana de Neurología (Ecuadorian Medical Society of Neurology), and XVII Journey of the Ecuadorian League against Epilepsy in Ecuador (LECE) took place in Cuenca, Ecuador, from October 7 to 10.
In order to update the knowledge of all those interested in the field of neurology, based on the latest advances in the area, national and international experts in different areas of the activity were invited to attend the event as speakers and to share the most recent studies on the subject matter.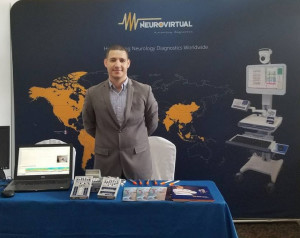 Among the prominent themes, Neuroimmunology, multiple sclerosis, movement disorders, cerebrovascular disease, neuromuscular diseases, and Alzheimer's. The seminars were presented by Ecuadorian teachers and experts, as well as international guests from Chile, Colombia, the United States, Mexico, Argentina, Spain and Canada.
"Once again, we were present at an event that brought together experts in neurology from many countries of the world. For us, Neurovirtual, the information exchange is extremely rich and we will continue to participate in all discussions on the subject, listening to doctors and experts and understanding the real needs of the area, "says Deisy Rojas, Commercial Manager of Neurovirtual LATAM.