Contributing to the improvement of childhood neurology through events, studies, and counseling since 1967, the Argentine Society of Child Neurology promoted the XXXIX edition of the Argentine Congress of Child Neurology, on October 17th-19th, in Santa Fe, Argentina.
About 200 national and international Neuropediatricians attended the event, which featured lectures and debates, as well as scientific meetings and posters of researches under development that addressed different aspects related to the theme.
Dr. Maria Belén Ramos, Neuropediatrician, and one of the event's professional representatives, emphasized the relevance of her specialty during an interview in the F5 Update program. "The pathology related to child development is the most common, especially the ones related to speech and learning, and lately we have been addressing autism spectrum disorders, as well as pathologies like epilepsy and headache."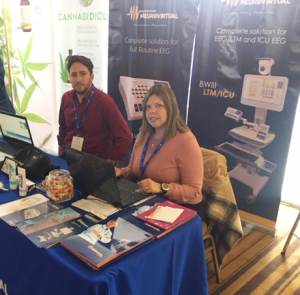 Some topics covered during the event programming were: Medical diagnostics in the educational field: Disorders of neurological development, by Dr. Nora Grañana; First-year epilepsy and neonatal seizures, and Surgical clinical management of epileptic encephalopathies, both by Dr. Elia Pestana Knight (Cleveland – USA); Practical Considerations for Gene Therapy in Clinical Practice, by Dr. Erick Sell (Canada); Dystonia and control of dystonic status, by Dr. Ricardo Maiola.
Neurovirtual was the only medical device company to attend the Congress, and they registered a high flow of interest in the solutions presented, with the BWIII EEG Plus, BWIII EEG and BWMini Ambulatory EEG equipment. In addition to providing information about the company's solutions, employees Dubraska Quevedo, Andres Losada, and Marcela Cañon captured business opportunities and received key experts at the company's booth, such as Dr. Santiago Flesler and Dr. Augusto Medici.