Two well-known hospitals in their home countries, the Mexican Médica Sur and the American Mayo Clinic, joined forces to promote the 3rd Symposium on Updates in Neurosurgery and Neurology, October 4th through 5th in Mexico City.
In a rapidly advancing world, the care for patients with neurological and neurosurgical conditions requires multidisciplinary teams, with state-of-the-art knowledge, based on scientific evidence, which makes updating the expertise one of the best ways to invest in the future. Following this motto, the event had an intense schedule composed of 45 conferences, 10 of which were case studies workshops, 11 were from participation of international teachers, and 13 were from Médica Sur.
Aimed at neurologists, neurosurgeons, pediatric neurologists, geriatricians, emergency medicine, family physicians, nurses and other healthcare professionals interested in neuroscience, the Symposium brought together dozens of experts to discuss and learn about the latest advances in the sector. These included spinal surgery, intraoperative neurophysiological monitoring, cerebrovascular disease, epilepsy, brain tumors, dementia, headache, and multiple sclerosis.
Among the fundamentals defended by the organizers of the event was the importance of continuously improving patients' quality of life, as thousands of people suffer from the challenges generated by neurological conditions such as Alzheimer's, ischemic CVA, Multiple Sclerosis or Parkinson. The proposal of the event is fully aligned with the positioning of Neurovirtual, who's mission is to humanize the diagnosis through advanced technologies. The company attended the Symposium, and presented at their booth, the BWIII EEG; BWIII EEG PLUS and BWMini EEG, highlighting the BWIII EEG PLUS/UCI equipment.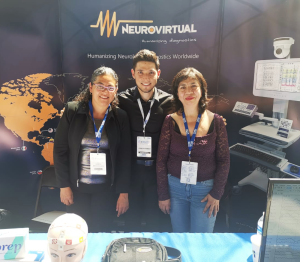 Dr. Benita Mondragon Mora and Dr. Silvia Muñoz Hernandez, Specialists at the Clinical Neurophysiology Service of the National Institute of Pediatrics (INP) of Mexico, as well as being Neurovirtual clients, attended the event and visited the booth, where they were welcomed by the employees Joseph Pardo, Business Consultant, and Jéssika Brito, Marketing Coordinator, who represented Neurovirtual during the Symposium.