Promoted by the Colombian Association of Neurology, the Symposium on Refractory Epilepsy and Epileptic Status – A Look at Current Evidence was held in Cartagena on September 19th  and 20th, 2019. Different from similar health events, the Symposium featured a programming session completely dedicated to patients, as opposed to the central focus on discussions and presentations aimed at medical professionals.
The patient session was free of charge upon registration and covered topics such as epilepsy basic concepts, patient law protection and regulation, medications and recommended diets. The session for doctors and other specialists brought together national and international speakers and dealt with issues such as crises; refractory epilepsy and its impact on sleep; EEG video in refractory epilepsy; new frontiers in the management of epilepsy in children; diagnosis and management of seizure status, among other topics.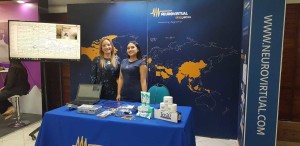 Neurovirtual was present at the Symposium with a booth, presenting the equipment BWIII EEG PLUS, accessories and supplies for EEG exams. Another highlight of the company was the presentation of a study on Epilepsy, which stimulated the flow of visits, arousing public interest and reinforcing the quality of records obtained through the technology present in Neurovirtual solutions. Renowned professionals came to the booth, such as Dr. Laura Guió, a highly influential neurology specialist from Hospital De La Misericordia, one of the largest in Bogota.
Representing Neurovirtual during the Symposium was Latam Sales Manager Andrea Parra and commercial assistant Angie Medellin.