Internationally renowned speakers, and more than 300 participating experts, with their exchange of knowledge and extensive networking, marked the LACE 2019 Congress, organized by the Argentine League Against Epilepsy in Buenos Aires on September 19th and 20th, , 2019.
The rich programming was composed of conferences, symposiums and case reports, bringing together the main topics on the agenda, such as: Effectiveness and tolerance to medicinal cannabis in patients with refractory encephalopathies: preliminary results; Genetics and epilepsy; Updates on the treatment of epilepsy; Imaging studies in drug resistant epilepsy; and, The way to precision medicine in epilepsy.
Among foreign guests, Dr. Ruben Kuzniecky, neurology professor at Northwell Heatlh (USA), Dr. Samuel Berkovic, neurology professor at the University of Melbourne (Australia), and Dr. Manuel Toledo, neurologist at Vall d 'Hebron (Spain), were all present. Dr. Orrin Devinsky, neurology professor at New York University (USA), participated via teleconference.
During the event, in recognition of two scientific papers, an award was given,  and the prize to the winners were two scholarships to the American Congress of Epilepsy.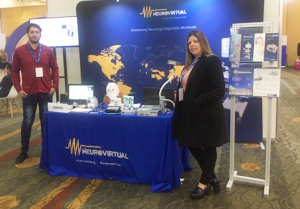 Neurovirtual, represented by collaborators Dubraska Quevedo, Andres Losada and Marcela Cañon, was one of 10 exhibiting companies and brought to the public the BWIII PSG Plus, BWIII EEG and the compact and lightweight BWMini EEG, as well as accessories and supplies. The company featured  important presenters at the booth, such as Dr. Daniel Vilariño, Dr. Walter Silva and Dr. Maria Del Carmen Garcia, as well as a considerable number of prospects for future business.
LACE is a 70-year-old civil entity that aims to disseminate knowledge related to epilepsy, especially in scientific aspects. Through these events, it proposes to update the interrelated aspects of the diagnosis and treatment of epilepsy, addressing seizure classification, clinical and neurophysiological diagnosis, medication or surgical therapy.