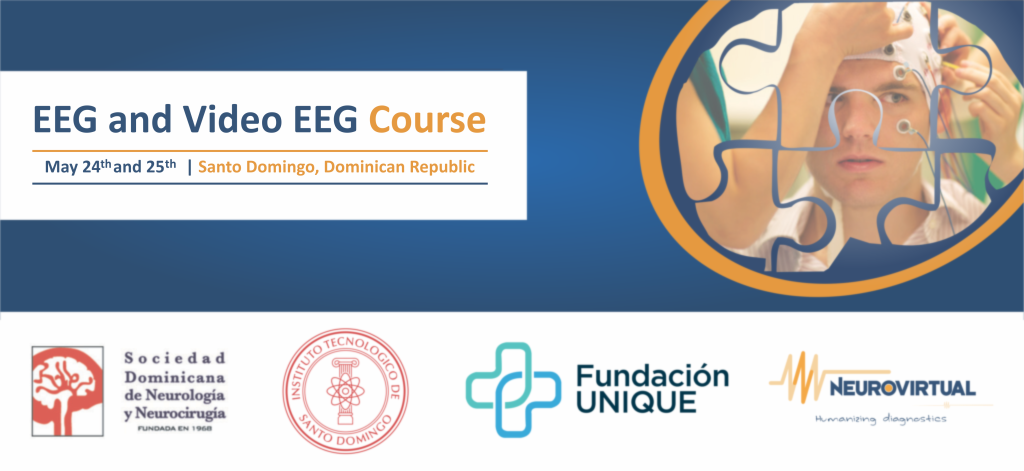 Committed to supporting and promoting medical education in the neurological field worldwide, Unique Representaciones and Neurovirtual jointly organized the Electroencephalography and Video-EEG course, addressed to specialized physicians and technicians in the field.
With the attendance of 70 technicians and 50 specialists, the course was held in the Instituto Tecnológico de Santo Domingo. The course welcomed professionals from every region who highlighted the importance of attending this useful event, which offered an enriching academic program in electroencephalography. The course was also divided into two sections, on Friday, May 24th, the course was addressed to EEG technicians, and on Saturday, May 25th, it's focus was specialized physicians.
These were some of the topics the attendants of the course deemed most valuable, types of artifacts and how important it is to know them, brain death protocol, 10-20 and 10-10 electrode location techniques, video-EEG, regular EEG, wakefulness and sleep, and patient EEG in the ICU.
The device BWIII Plus EEG ICU Monitoring, was the equipment used for demonstration during the course. This is a very complete device for ICU EEG and LTM, which allows users to perform medical revision online from any reading station, mobile devices included.
The course also was attended by physicians from the Dominican Republic, renowned in the neurological field, such as Dr. Evelyn Lora (neurologist and pediatrician), Dr. Ayleen Hernández (neurophysiologist), Dr. Carlos Muñiz (neurologist and epileptologist), Dr. Luis Tusen (neurologist), and Dr. Luis Cantizano (neurologist).
"We want to express our gratitude to all those people from every region of the country who showed their interest in participating in this event, and how well received the event was. We, Unique Representaciones, exclusive distributor of the Neurovirtual brand in our country, hope to continue contributing to this important health field in the Dominican Republic through our foundation, Unique," said Carlos Díaz, manager of Unique, present at the event.
Neurovirtual thanks attendants for participating, and its strategic partner for the support, and is committed to the contribution in the medical training of specialists and technicians worldwide.
"I am surprised to see all the people who enrolled in this course, and I would like to publically congratulate all of you for making the decision to be here today. I am glad to see so many people willing to strengthen their EEG knowledge, and I think you´ve made the greatest of decisions coming here," concluded Dr. Ayleen Hernández, neurophysiologist, who led the introduction to the course addressed to technicians.

"Technicians are crucial for achieving accurate EEG recording" – Dr. Luis Tusen, neurologist.