On August 2 and 3, the Colombian city of Armenia hosted the International Symposium on Sleep Disorders in Pediatrics, an important event organized by the Colombian Association of Sleep Medicine (ACMES), which brought together 100 specialists.
The program included the participation of two international speakers – Dr. Gustavo Niño, expert from George Washington University, and Dr. Pablo Brockmann, from the Catholic University of Chile, as well as 15 national speakers and round tables. Topics covered included sleep-disordered breathing, insomnia, central apnea in pediatrics and epilepsy, and were related to five different medical specialties: pediatrics, pediatric pneumology, child neurology, child psychiatry and otorhinolaryngology.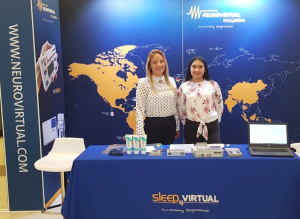 Neurovirtual, represented by Latin American Sales Manager Andrea Parra and commercial assistant Angie Medellin, sponsored the event and exhibited the equipment BWIII PLUS PSG, BWMini PSG, HST Compass equipment, as well as polysomnography accessories and supplies. The Neurovirtual booth had a non-stop flow of visitors, among them were professionals who are already clients of the company, as well as prospects, showing interest mainly in the HST (Home Sleep Testing) solution and polygraph.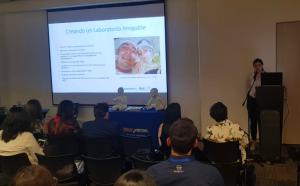 A highlight of the Symposium was a connection workshop led by Dr. Lina Tavera, which featured hands-on demonstrations of Neurovirtual equipment in puppets, garnering attention and even more brand recognition from the audience.