Following its purpose in offering complete Sleep Diagnostic solutions, Neurovirtual reinforced Sleepvirtual's brand and solutions at an important event in Mexico, the 10th National Meeting of Sleep Medicine, held from August 14 to 16 in Mexico City.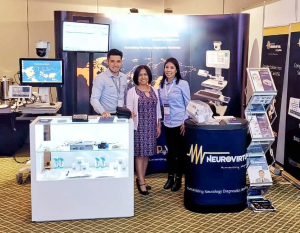 Recognized for high academic excellence, the event has been growing every year and includes the collaboration of numerous sleep medicine leaders, as well as the support of the Mexican Academy of Sleep Medicine. The agenda and debates become even richer due to the participation of different specialties such as pulmonologists, otolaryngologists, neurologists, pediatric pulmonologists, and dentists. Multidisciplinary professionals also contribute to the treatment of sleep disorders from the beginning of the diagnosis until its conclusion.
This year, Sleepvirtual participated in the meeting with two initiatives: a booth, where it presented its portfolio of equipment – HST Compass, BWMini PSG/HST, BWIII PSG and BWIII PSG PLUS – and a workshop session, which included some practical demonstrations, such as the Polysomnographic Qualification Workshop, the special session included the use of BWIII PSG Plus and BWIII PSG equipment and was led by Professor Lourdes Galicia Polo, Polysomnography and Related Procedures Technician at the INER Sleep Medicine Unit (National Institute of Respiratory Diseases) and at the Sleep Clinic of UNAM (National Autonomous University of Mexico).
Neurovirtual was represented during the event in Mexico by Erika Almazán, Marketing and Sales; Joseph Pardo Bernal, Technical Support Engineer; and Luz Quezada, Sales. Together, they received sessions of qualified leaders in the sector such as Dr. Lourdes Galicia Polo; Dr. José Luis Carrillo Alduenda; Dr. Ulises Jimenez Correa; Dr. Carlos Julian Colonia Cano and Dr. Rodolfo Cesar Callejas Rojas.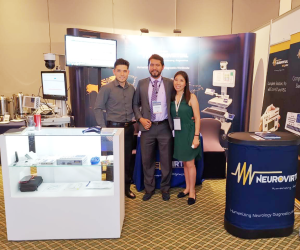 Asked about the event, Dr. Rodolfo César Callejas Rojas, Neurologist, Neurophysiologist, Epileptologist and Sleep Medicine specialist, emphasized the meeting's highlights. "I consider it a very complete event, especially because it covers everything from the importance of sleeping at the pediatric age to the treatment and the understanding of the biological and molecular point of view regarding why people are sleeping less in adulthood," he said.