Bringing together about a hundred doctors of different specialties, the First International Symposium on Neonatology, held on February 7th and 8th in Monterrey,
Mexico, addressed the main issues related to care, neurological treatments, neonatal intensive care and high-risk newborn monitoring.
Although advances in critical care for newborns and premature infants contribute to improving neonatal mortality rates worldwide, there is still concern about complications and neurological sequels that may occur. "For this reason, we have set up this symposium in order to present and discuss the new trends for the care of these patients," explained Dr. Rafael Caso Monge, medical director of the Gynecological and Obstetrical Hospital of Monterrey.
In an effort to encourage discussions and equip teams, the topics covered in the two days of scientific programming were of great value to the participants. Among the highlights were: "Perinatal factors associated with neurological damage;" "Tools for neurological monitoring (EEG, AEEG, NIRS);" "Early approach and intervention in hydrocephalus;" "Neonatal neurological exploration;" and "Early identification of neurodevelopmental disorder."
The only equipment company present at the event, Neurovirtual, had a demonstration table focused on neurological diagnosis and presented the BWIII EEG, BWIII EEG PLUS ICU Brain Monitor; BWMini Ambulatory EEG equipment, as well as accessories and supplies for EEG and PSG. In attendance were employees Joseph Pardo and Jessica Morales, as they demonstrated and presented to the public the practicality of the equipment and the innovative technology employed by the company to build its solutions.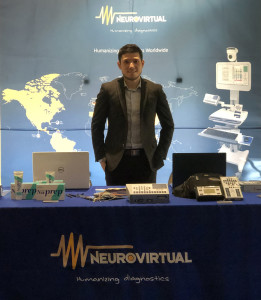 To fulfill its purpose, the event counted on the participation of renowned doctors with great professional trajectories. "They shared experiences in the different disciplines that are part of neonatal intensive care, with a special focus on neonatology; pediatric neurology; radiology; neurosurgery; maternal-fetal medicine; neurological development; and rehabilitation medicine," explained Dr. Luis Gerardo Martínez Valades, general coordinator of the organizing committee.