About 100 specialists in Sleep Medicine met at the University of Aguascalientes, Mexico, between February 14th and 15th, for one of the most important update courses in Sleep Disorders of the region, the Sleep Medicine Forum of the Bajío.
Under the theme "Better sleep for better living", the program of the double-day event covered topics of high relevance, such as Physiology of ventilation during sleep; Classification of sleep disorders; Diagnosis of sleep apnea; Insomnia in children and adolescents; Movement disorders and sleep; Video electroencephalogram with polysomnography; Equipment workshop and CPAP masks, and others.
Recognized by the audience for its excellent ambulatory technology and for its unparalleled technical support, Neurovirtual was among the sponsors and exhibitors of the event, reinforcing its mission to encourage scientific knowledge and provide the market with cutting edge solutions that humanize the diagnosis . At the company's stand, the employees Joseph William Pardo Bernal and Jessica Joseline Ramírez Morales exhibited the BWIII EEG, BWIII PSG, BWIII PSG PLUS; HST Compass, BWMini PSG, as well as inputs for EEG and PSG.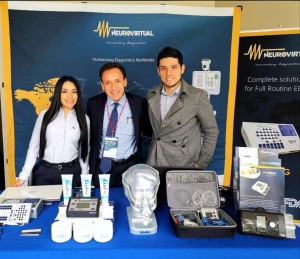 In an interview about the event, Dr. Rodolfo César Callejas Rojas, Neurologist and specialist in Sleep Medicine, reinforced the importance of the Forum, saying that in Mexico, little or no sleep is a common reality. "28% of the people in the country have some kind of sleep problem, including children with chronic sleep deprivation", he declared. For this reason, it is important to ensure that the consequences of these issues do not become more severe, such as in snoring, for example: "most of the time snoring accompanies sleep apnea and, night after night, this situation starts to damage the heart, lungs, brain and others organs, which can trigger other more serious problems ", he adds.