An important event in the Brazilian medical calendar, the XXVII Brazilian Congress of Clinical Neurophysiology and the VIII Latin American Congress of Clinical Neurophysiology took place from August 14 to 17 in São Paulo, bringing together hundreds of experts and researchers from around the World.
The aim of the event was to share knowledge, present and discuss the latest news in the areas of electroencephalography, electroneuromyography, evoked potentials, polysomnography, intraoperative monitoring, neuromodulation and neuromuscular ultrasound. All of these themes were brought together through a high-level of technical presentations in the form of lectures, round tables, and practical workshops.
During an intense 4 days, simultaneous programming took place in four conference rooms, addressing the main themes related to neurophysiology, such as: Continuous EEG monitoring in critically ill patients: fundamentals and practice; Polysomnography: updates and new criteria; Challenges in electroencephalography; Clinical studies on non-convulsive status epilepticus: the role of EEG; Epilepsy surgery; Childhood epilepsy; Polysomnography: REM sleep behavioral disorder; Polysomnography: sleep in the neonatal period, and others.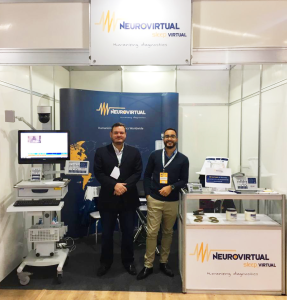 Among the speakers, of whom are Neurovirtual clients, were Dr. Elza Márcia Targas Yacubian, PhD in Neurology, Associate Professor at the Department of Neurology and Neurosurgery at Federal University of São Paulo, and Dr. Geraldo Nunes Vieira Rizzo, Neurologist and Neurophysiologist, and Director of the Institute of Clinical Neurophysiology and Sleep Laboratory of Hospital Moinhos de Vento and Specialist in Neurology, Clinical Neurophysiology and Sleep Medicine by AMB.  Dr. Targas spoke about "The EEG in the diagnosis and treatment of epilepsies", and Dr. Geraldo Rizzo chaired roundtable on Polysomnography and Neuromodulation and presented a lecture entitled "Transcranial Magnetic Stimulation: Potential Use in Sleep Disorders".
Neurovirtual was present at the Congress, represented by Business Consultant Alex Ribeiro, having the opportunity to present to the audience the equipment BWIII EEG and BWIII EEG PLUS ICU, reinforcing its leadership in the sector. Another initiative was a promotional action, which consisted of the drawing of the winning coupon worth $5,000 towards the purchase of any new equipment.