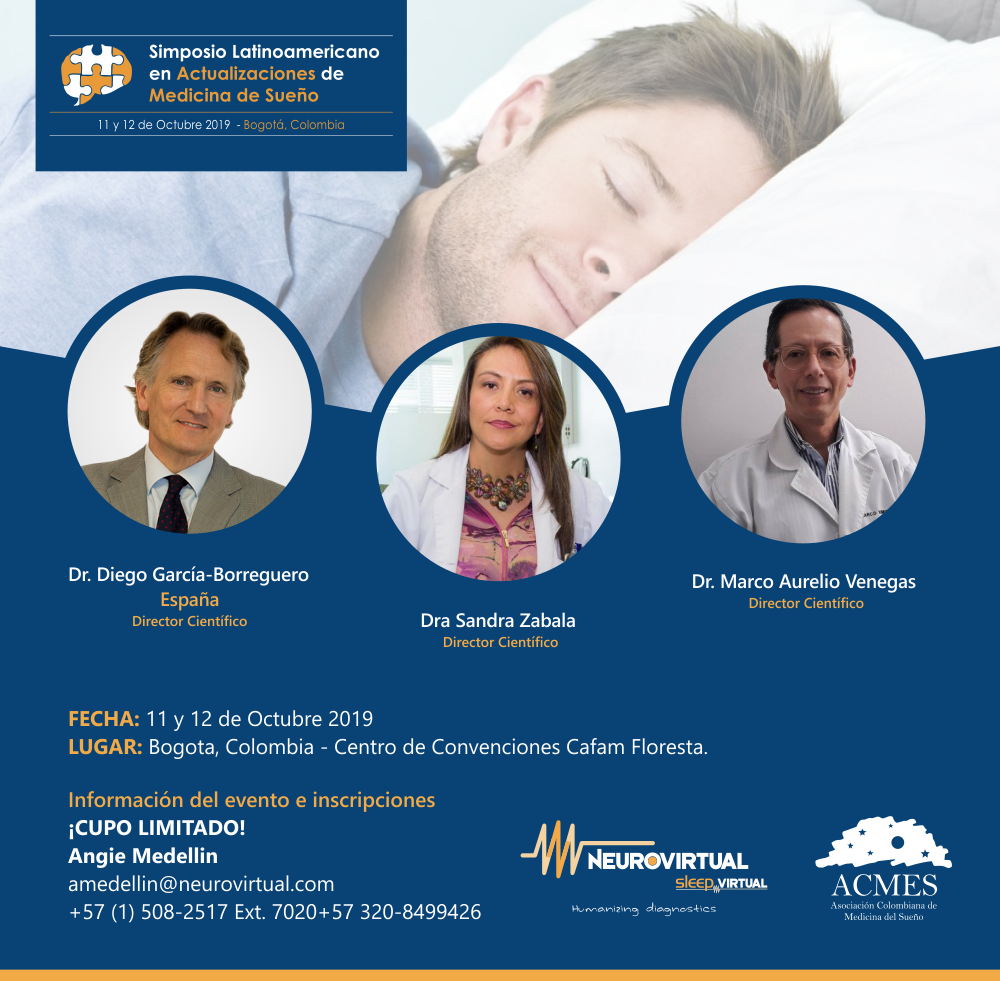 In partnership with the Colombian Association of Sleep Medicine (ACMES), on October 11th and 12th, 2019, Neurovirtual will be promoting the Latin American Symposium on updates in Sleep Medicine. The event is directed towards physicians, residents, technicians, physiotherapists, and respiratory therapists who already work with Polysomnography (PSG). With a complete agenda, composed of more than 15 lectures, it will be conducted by Colombian and international experts, renowned in their areas of performance.
Curated by the scientific directors, Dr. Diego García-Borreguero, Dr. Sandra Zabala, and Dr. Marco Aurelio Venegas, the symposium will present pertinent themes in the diagnosis of PSG, highlighting best practices, innovations, and newly launched products. Always aligned with the commitment to humanize diagnostics, Neurovirtual is invested in the technological development and scientific advances in the sleep medicine field worldwide.
This new edition of the symposium, is the result of the success of the event held last year, the Latin American Course on EEG and Video EEG, which brought together 130 experts from different Latin American countries, addressing relevant topics to all in attendance. Among these topics, the recognition of an abnormal electroencephalographic record and its variants, the importance of the precise diagnosis, and the new classification of epilepsy and its evolution.
The 2019 Symposium will be held at the Centro de Convenciones Cafam Floresta, in Bogota, Colombia, which has a capacity for 170 people. So do not wait until the last minute to sign up and secure a place in Latin America's premier sleep medicine event of 2019!
Event information and registration
Angie Medellin – medellin@neurovirtual.com
+57 (1) 508-2517 Ext. 7020 – +57 320-8499426
LATAM Manager
Andrea Parra
COL +57 5082517 Extension 7020/7019
+57 320 8499426 / +57 310 8669605