SECONDARY BILATERWHEN MESIAL FOCAL DYSPLASIA MIMICS LENNOX-GASTAUT SYNDROME AL SYNCHRONY AS AN EEG PITFALL
 Figueiredo NSV (1); De Marchi LR (1); Zetehaku AC (1); Gomes ACD (1); Girotto PN (1);  Guilhoto LMFF (1); Guaranha MSB (1); Carrete Jr. H (1); Centeno RS (1); Yacubian EMT (1).
Introduction
Lennox-Gastaut syndrome (LGS) is a challenging diagnosis in epileptology as could be misunderstood with different etiologies as focal cortical dysplasia (FCD) (Bourgeois et al., 2014).
If patient has many seizure types is more probably to be wrong diagnosed (Camfield & Camfield, 2007).
Moreover, mesial surface lesions (MSL) could result in false localizations leading to EEG misinterpretation.
In turn, patients with mesial lesions could have secondary bilateral synchrony (SBS) in EEG as showed by Tükel and Jasper since the fifties (Tükel & Jasper, 1952). It is described as 2-4Hz high-amplitude, synchronous, almost symmetric diffuse slow sharp waves (DSSW).
Objectives
To highlight SBS as an EEG's pitfall describing a case of FCD mimicking LGS.
Case Report
A 9yo boy from Acre with previous LGS diagnosis performed pre-surgical evaluation for callosotomy in our epilepsy center.
His mother had malaria during pregnancy needing medications nonetheless without complications (term delivery).
His neurodevelopment was normal until 3yo when left focal motor seizures started and quickly evolved to tonic-clonic, tonic and drop seizures plus atypical absences.
Consequently, moderate neuro-psychomotor impairment occurred as mild left hemiparesis.
Serial EEGs showed LGS's hallmarks: 2.5Hz DSSW and generalized fast rhythm.
However, awake background activity was normal, an unexpected finding in LGS due to be slow and poorly organized since its onset.
Figure 1: EEG records findings – pro and against LGS diagnosis.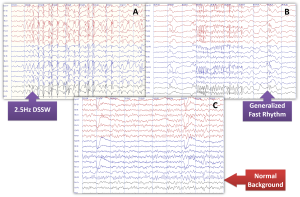 legend: (A, B) In LGS's EEG pattern is expected a triad with 2.5Hz DSSW, generalized fast rhythm and poorly organized background. (C) However, in this reported case a curious finding was his normal background when awake not fitting with LGS diagnosis.
Video-EEG revealed stereotyped and predominantly focal seizures beginning at right fronto-central (RFC) regions that quickly diffuse bilaterally as DSSW. In addition, all mentioned seizures were clinically recorded.
Figure 2: One electrographic seizure recorded during video-EEG with a focal beginning.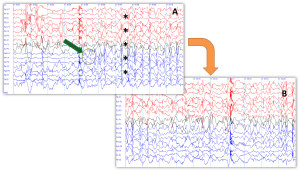 Legend: (A, B) Although DSSW morphology (asterisks), the recorded electrographic seizure begun at RFC region (arrow and circle), putting lights on a probably focal lesion.
EEG-guided curvilinear 3T MRI showed FCD at right superior mesial frontal gyrus extending to anterior cingulate gyrus (ACG).
Figure 3: The role of neuroimaging guided by EEG localizing the lesion.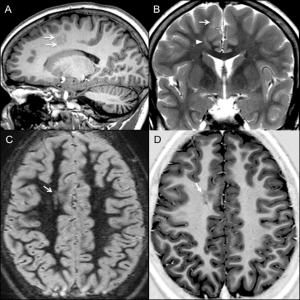 Legend: Once EEG recordings showed a focal beginning at RFC region, a 3T MRI localized the lesion (arrows) in right frontal parasagittal region in sagittal T1 (A) and coronal T2 sequences (B), such as axial DIR (C) and IR (D). The transmantel sign is shown as a head arrow in (B).
[DIR: double inversion-recovery;  IR: inversion-recovery].
The patient underwent lesionectomy with electrocorticography; pathology confirmed FCD type I.
Discussion
This case displays a pseudo-LGS with MSL at frontal/temporal lobes leading to SBS.
In Gastaut's series (1987), misdiagnosis of LGS in symptomatic partial epilepsies ranged from 37-51.5%, mainly when drop attacks were present.
Furthermore, fast rhythms and tonic seizures could also be find misleading differentiation.
Cortical areas on mesial surface, around corpus callosum such as ACG, set abnormal electrical activity that rapidly involves both hemispheres generating SBS with similar morphology to generalized seizures – an EEG's pitfall (Lennox & Robinson, 1951).
Conclusions
Better outcomes depend on accurate history associated with detailed EEG analysis avoiding misinterpretations.
References
1- BOURGEOIS BFD, DOUGLASS LM, SANKAR R. Lennox-Gastaut syndrome: A consensus approach to differential diagnosis. Epilepsia 2014;55(Suppl.4):S4-S9.
2- CAMFIELD P, CAMFIELD C. Long-term prognosis for symptomatic (secondarily) generalized epilepsies: a population-based study. Epilepsia 2007;48:1128-1132.
3- TÜKEL K, JASPER H. The electroencephalogram in parasagittal lesions. Electroencephalogr Clin Neurophysiol 1952;4:481-494.
4- GASTAUT H, ZIFKIN B, MAGGAUDA A, MARIANIL E. Symptomatic partial epilepsies with secondary bilateral synchrony: differentiation from symptomatic generalized epilepsies of the lennox-gastaut type. In: Presurgical Evaluation of Epileptics. WIESER HG, ELGER CE, editors. Springer-Verlag, Berlin Heidelberg, 1987.
5- LENNOX MA, ROBINSON F. Cingulate-cerebellar mechanisms in the physiological pathogenesis of epilepsy. EEG Clin Neurophysiol 1981;3:197-205.