Hospital Auxilio Mutuo is the oldest and largest private hospital on the Island of Puerto Rico. It was founded in 1883 and has been serving the island for well over 100 years. The hospital was founded by seven Spaniards who saw a glaring need to establish affordable health care services for their poor countrymen who were inhabiting the island and adjusting to the new climate. They, along with the initial 187 members of the newly formed partnership, gave their time and considerable monetary contributions to ensure that their dream of providing quality care to the island would come to be.
Today, Hospital Auxilio Mutuo offers the most comprehensive range of services to the island, including a top-rated cardiology program, cardiovascular surgery, oncology, and most recently, one of the most modern and largest sleep labs on the island. Their dedication to quality made their decision to work with Neurovirtual on their upgrade and subsequent expansion a very thoughtful one.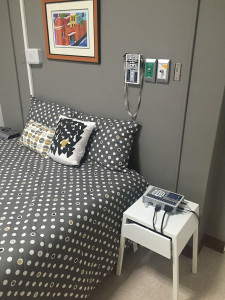 Over the past year, Neurovirtual installed 12 beds at Hospital Auxilio Mutuo. The management staff at the hospital learned about Neurovirtual products during an annual sleep conference, where they heard about a better option for modernizing and expanding their lab. Their initial purchase of six beds happened in December of 2015, and when the time came to expand, the hospital contacted Neurovirtual to add six additional beds and open a brand new 12-bed lab with state-of-the-art technology, ensuring patient comfort and accurate diagnostics.
Neurovirtual provided in-depth training to the entire sleep staff, facilitating the learning curve, which is perhaps the easiest in the industry due to software features that are designed with the requests and comments of customers in mind, so it feels natural. To paraphrase their lead technician and lab manager, Enid, their experience with Neurovirtual has been extraordinary, and their transition has been very easy due to training and the responsiveness of the 24/7 technical support provided by Neurovirtual. The Neurovirtual system is a very sophisticated one, which has made doing their job much easier. They are truly happy with their experience and would highly recommend Neurovirtual equipment to other labs.
The Neurovirtual difference exists in many facets of the product offering, including intuitive software solutions and budget-friendly cost; however, the most important facet is ensuring that every customer is completely satisfied and knowing that Neurovirtual will always be listening for ways to improve their experience.