The Colombian Sleep Medicine Association (ACMES) Symposium on Sleep Disorders – Present and Future, was held on February 21st and 22nd, in the city of Bogota, Colombia.
Aiming to bring an overview about sleep disorders at different stages of life, the symposium's program addressed several themes and brought together speakers and specialists from different
areas, such as neurology, geriatrics, pneumology, pediatrics, otorhinolaryngology, gynecology, radiology, dentistry, psychiatry and physiotherapy .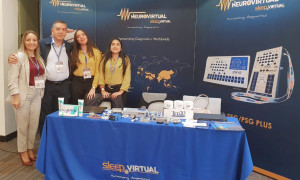 Among the topics discussed at the symposium, special highlights were "New surgical techniques for the management of sleep apnea;" "A good PAP qualification: a challenge in the sleep laboratory;" "Biomarkers for sleep apnea in diagnostic processes;" "Accreditation process for sleep laboratories and professionals in Colombia;" and "New perspectives for insomnia diagnosis and treatment; Differential diagnosis of motor activity during sleep."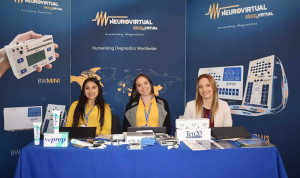 Neurovirtual sponsored the event and was represented by employees Andrea Parra, Paula Quiroga and Angie Medellin, who registered a high flow of visitors to the booth and good recognition of the brand by the public, who showed special interest in the HST COMPASS and polysomnographers BWMini PSG and BWIII PSG.
In fact, the company was visited by renowned professionals in the sector, such as Dr. Andres Franco, neurologist and master in sleep physiology and medicine; Dr. Jesus-Hernan Rodriguez, neurologist and sleep medicine specialist; Dr. Steve Amado, otolaryngologist and sleep medicine specialist; and Dr. Franklin Escobar, scientific director of Fundasuvicol (Fundação Sono e Vigília Colombiana).