The city of Mar del Plata in Argentina hosted the most important scientific event about neuroscience in the country, the 56th Argentine Congress of Neurology, from November
19th to 22nd, 2019.
More than a thousand professionals from different medical specialties, both national and international, students and researchers, in addition to about 100 companies gathered over four days to discuss the main subjects, research areas, and technologies related to neurology. The scientific program included a complete agenda of activities, with courses, symposia, plenary sessions, roundtables, poster sessions, videos and pre-congress courses.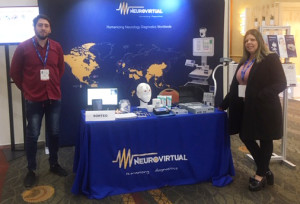 Among the highlights covered in the program were the roundtables "Neurology at the frontier of life: handling the most prevalent neurological pathologies in adults in the emergency room;" "Not everything is Alzheimer's;" "Migraines: other dimensions;" "Real-life challenges in patients with multiple sclerosis;" the plenaries "Epilepsy and Infarction;" "Differential diagnosis of patients with acute vertigo;" and the video session "Cognitive and Behavioral Disorders: the importance of semiology in the differential diagnosis."
With a very strategic positioning, Neurovirtual's booth facilitated a high flow of visitors, including important names among the medical community, such as Dr. Roberto de Arbelaiz, neurologist at the German Hospital of Buenos Aires; Dr. Stella Maris Valiensi, neurologist and head of the sleep service at the Italian Hospital of Buenos Aires; and Dr. Julieta Camji, neurologist and sleep medicine specialist.
Among the solutions shared by Neurovirtual were the BWIII EEG Plus and the portable BWMini Ambulatory EEG, in addition to the BWMini PSG. Employees Dubraska Quevedo and Andres Losada represented Neurovirtual during the congress.