For years, Neurovirtual has been working with few but talented and driven distributors in Asia, and have helped them on the process to grow their market presence in the region. This past February Neurovirtual's CEO, Ed Faria,took a radical shift in making Asia a high priority strategic market for the company and spending 4 weeks with Product Manager Felipe Lerida CPSGT, strengthening existing relations and assigning new partners for the region.
During the 4 weeks' trip, both had the pleasure of visiting current customers at the Chun Shan Medical Hospital in Taichung City, Taiwan, meeting with the entire sleep center team, including the MDs and PSG technicians that work with Neurovirtual's equipment on a daily basis. The objective was to listen to their ideas for improving their experience.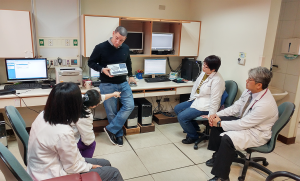 One of the reasons for the shift of strategy was the Chinese FDA (Health Authority) clearance for few of Neurovirtual's products late last year, making China the top spot of the list on this business trip. Two weeks were dedicated  interviewing potential new distributors in the country starting in Shanghai, followed by Beijing and the surrounding metro areas. The criteria involved prior industry experience, available human resources, connections in the industry, and a solid drive to establish a strong presence in the region.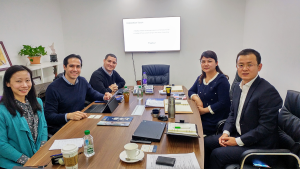 Mr. Faria ultimately decided to appoint Beijing firm JFR China as Neurovirtual's strategic partner in the region, and is looking forward to work closely with their team to achieve great success in product sales
and customer relations. The recently signed $2.5 million agreement shows the trust and the quality of Neurovirtual product as a strength for the Chinese market. "I believe Jeffrey Cheng from JFR will be a strategic partner for Neurovirtual not only in China, but in all Asia" said Mr. Faria.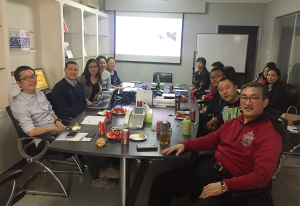 The following week, was used to visited a well-established distributor in Thailand, Central MediTech Co., Ltd. in Bangkok, where Mr. Lerida took the time to visit some of the established customers, including the Prince of Songkla University Hospital in Chang Wat Songkhla, Maharaj Nakhonsithammarat Hospital in Bangkok and Roi Et Hospital in Chang Wat Roi Et. As most Neurovirtual' customer, all are quite happy with their systems and are budgeting for a new Neurovirtual' system in the coming months.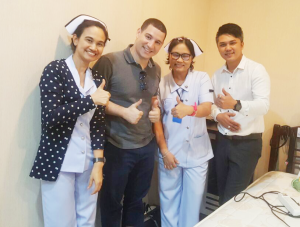 The last week of the trip was spent in Indonesia, where Mr. Lerida visited PT. Global Medik, the local appointed distributor for Neurovirtual's Neurology product line. "It was a perfect opportunity to install a BWIII EEG at our first customer in Indonesia (Mitra Keluarga Tegal Hospital in Jawa Tengah) and at the same time make a full training for our local team" said Mr. Lerida.
Neurovirtual hopes to make Asia an important market that could generate 20%-25% of the total company revenue in 5 years.