The 37th Brasilian League Against Epilepsy took place from June 6-9 at the Maksoud Plaza Hotel, in the city of São Paulo. The event brought many new features, including the First International Symposium of the Brasilian League Against Epilepsy, which took place at the opening of the event and discussed topics related to Epileptic Encephalopathies and Surgical Treatment of Epilepsy.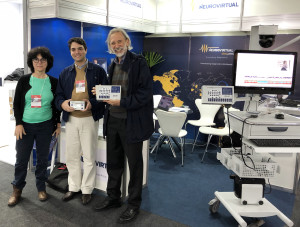 In addition to the Symposium, those who attended the Congress had the opportunity to participate in the Hands on Ketogenic Diet Workshop, lectures, conferences, video sessions and round tables. One of the highlights of the event was the discussion sessions, which took place on the last day, where experts were able to talk about controversial issues in the area.
Neurovirtual was there and presented equipment, such as BWIII EEG, BWIII EEG PLUS, BWIII EEG ICU/LTM and BWMINI AEEG. The main highlight was the BWIII EEG ICU/LTM, which synchronizes HD video and EEG video editing, before stapling, and BWMINI AEEG, which enables the performance of Ambulatory EEG (holter type), Integrated Amplitude EEG and Video EEG.