During the last 2 days of the congress, February 22nd and 23rd, the "Advanced Courses in Sleep Medicine" was convened by the Colombian Association of Sleep Medicine (ACMES), an event that brought together 180 experts in the area of sleep medicine, among whom were local national and international specialists.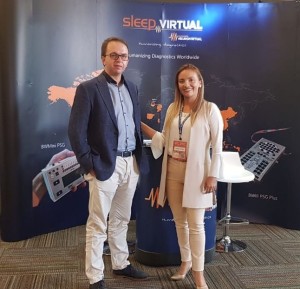 We had the presence of an international speaker and 19 national speakers, who dealt with themes such as pathophysiology of central apnea, SAHOS phenotypes, and phrenic nerve neurostimulation therapy, among other topics of interest.
The diagnosis of SAHOS (Obstructive Sleep Apnea Syndrome) was one of the most prominent themes during the event, when several productive factors were present, such as myofunctional therapy and simplified models, as well as the intervention of dental specialists. and their relationship in sleep medicine. Once again, Neurovirtual demonstrated their commitment to specialists in the sleep medicine area, where they showed the latest technology the company offers within the polysomnography market.