Considered one of the most important academic conferences in the health sector in Panama, the Santo Tomás Hospital Scientific Seminars reached its 48th edition in 2019, on September 25th, 26th and 27th, bringing together different medical specialties and healthcare providers.
The academic meeting is a way for the hospital to reaffirm its commitment to the continuous preparation of health professionals, aiming at offering the highest quality and humanized care to hospital patients. Among the topics covered during the conferences were: Introduction to Sleep Medicine; Insufficient sleep; Movement Disorders During Sleep; Therapeutic Advances in Obstructive Sleep Apnea Syndrome; Narcolepsy and Parasomnia.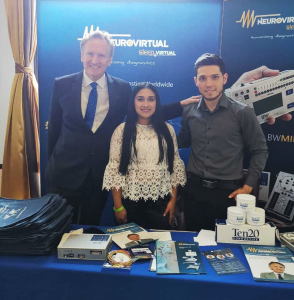 Neurovirtual was one of the exhibitors and received special attention during the event, as sleep medicine is an area that has been receiving more and more consideration by professionals lately. Represented by collaborators Joseph Pardo and Angie Medellin, the company was the only one to bring industry-focused solutions, presenting the BWIII PSG polysomnography equipment, accessories and supplies.
In addition to local experts, the Seminar also brought together internationally renowned presences, such as Dr. Diego García-Borreguero, neurologist and Director of the Madrid Sleep Research Institute (Spain). He is a Neurovirtual client and took the opportunity to visit the company's booth and check out the latest updates from the company.