The science of sleep involves numerous myths and beliefs that are adopted in the collective imagination and are not always true to reality. Of course, sleep is essential for good health and the occurrence of disturbance makes normal living difficult, but it is crucial that experts meet frequently to update their knowledge and debate on the subject.
Aware of this demand, the Colombian Association of Sleep Medicine (ACMES) promoted the event, Myths and Truths in Sleep Disorders, on November 8th and 9th, in the city of Medellin.
During two days of programming, experts debated on the main sleep-related topics, such as: Are PAP Therapy for Children Under 3 Years Recommended?; Oxygen for sleep apnea in children: myth or truth; Headache and sleep: when is it time to order a polysomnography; TCCI Topics and Challenges in the Contemporary World, among others.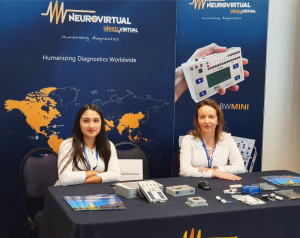 The main sponsor of the event, Neurovirtual, presented its portfolio of solutions for the sector, such as the BWIII PSG Polysomnography System, the BWMini PSG portable line, and the recently launched HST Compass home device system. The company's booth had a high flow of visitors, such as Dr. Andres Franco, who showed great interest in the solutions promoted, especially in home use equipment, which has been receiving growing attention from specialized clinics.
Neurovirtual employees Luz Angela Lopez and Angie Medellin represented the company during the event.