In its 69th edition, the American Academy of Neurology Annual Meeting took place in Boston, MA this year, with several lectures and plenary sessions that brought together experts from around the world. In addition to the scientific discussions and presentation of research studies, the participants were able to participate in discussions using real cases.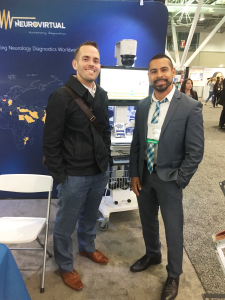 The congress was an opportunity for the presentation of interesting seminars on neuroscience, including unpublished studies by international researchers. Additionally, companies in the medical device industries were able to present their latest products for an increasingly accurate diagnosics.
Neurovirtual featured their BWIII Plus LTM and ICU monitoring device, which includes a powerful 50 channels EEG amplifier, an ergonomic cart, Sony IPELA PTZ high-end camera, and a touchscreen computer packaged as a single device, designed to make it more comfortable and efficient to use.
During the event, participants were also able to learn about Neurovirtual's latest routine EEG product, the BWIII EEG 34 Channel system, which was launched in April 2017. This new device improves on the now discontinued BWII routine EEG with additional channels, a higher sampling rate, better resolution, and bedside impedance check.
Felipe Lerida, Clinical specialist, and Sergio Solis, Account Manager, represented Neurovirtual at the event, highlighting the enhancements to quality and experience enjoyed by customers of Neurovirtual.