The II International Symposium on Sleep Medicine, promoted by the Chilean institution Clínica Universidad de los Andes, between July 4th and 6th, gathered over 300 professionals, including national and international specialists and teachers, and a complete program full of highly relevant subjects and world-class names in the sector.
The scientific program was very intense, with the participation of 26 renowned speakers, including Dr. Daniel Perez Chada, Dr. Marianna Evans, and Dr. Eduardo Castrillon. The event addressed the various problems related to sleep medicine, including neurology, bronchopulmonary medicine, otolaryngology, and dentistry, bringing together doctors and dentists, and their respective acting bias.
The different pathologies associated to apnea were also part of the agenda, such as bruxism, endothelial damage and genetic malformations, being recommended for the use of tests such as polygraphy and polysomnography as diagnostic elements.
Neurovirtual had a booth, and were participants exhibiting their polysomnography equipment, with special highlights to the BWIII PSG Plus and the BWMini PSG/HST models, reinforcing the company's leadership in quality and technology, focused on sleep medicine, in an event that has already become a national and international reference.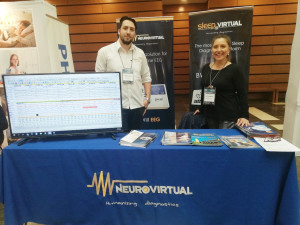 Dr. Evelyn Benavides, a neurologist and one of the symposium's directors, underlined the high rate of adherence to the event. "We are very excited and hope to continue doing this next year as it is a highly valued event for all of us who are specialists in sleep medicine", she said.