This year, the city of Medelin, Colombia, was chosen to host the III National Congress of Electrodiagnosis and Neuromuscular Diseases. Overall, 150 professionals met between September 22 and 24, sharing information and exchanging experiences on the subject.
Promoted by the Colombian Association of Electrodiagnostic Medicine (ASCMEDx), the event aimed to strengthen the relationship between specialists and physicians to maintain continuous education and research of pathologies of the nervous system and also put side by side the laboratories and companies which provide the necessary examinations tools.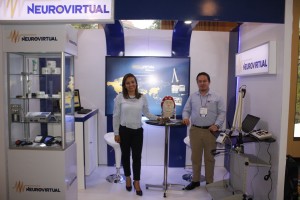 Neurovirtual, participant of the event, presented the two-channel EMG equipment with auditory and visual potentials and BWIII Plus, both of which provoked a lot of interest from the participants who visited the Neurovirtual booth.
"Neurovirtual is present at most congresses and conferences on the subject in many parts of the world. Showing our equipment for doctors and technicians and emphasizing our mission to increasingly humanize the diagnoses, is our main objective to participate in events such as this. "Says Deisy Rojas, Commercial Manager of Neurovirtual LATAM.