The Brazilian Sleep Congress was held November 30th through December 1st at the Frei Caneca shopping and convention center in the city of São Paulo. The event was conducted by three sister societies: ABS (Brazilian Association of Sleep), ABROS (Brazilian Association of Sleep Odontology) and ABMS (Brazilian Association of Sleep Medicine). It was set in multidisciplinary rooms, which offered an updated view of news in the world of sleep. The board of directors of the congress is formed by Geraldo Lorenzi Filho, President, Cláudia Roberta de C. Moreno, Scientific Director, Andrea Bacelar, President of ABS, Fernanda Martinho Haddad, President of ABMS, and Marco Antônio C. Machado of ABROS.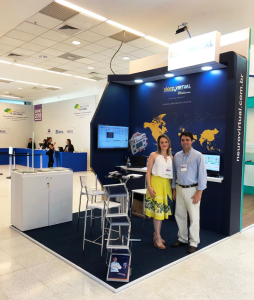 The event was attended by numerous national and international speakers, including Dr. Ferran Barbé of Spain, Dr. Daniel Cardinali of Argentina, Dr. Gottard D. Tribl of Austria, and Dr. Daniel Pérez Chada of Argentina, all of whom addressed themes such as chronometry, how to diagnose sleep apnea, clinical application of the actigraphy, and the influence of the AOS phenotypes on the choice of treatment, among other topics.
Neurovirtual was present at the event and had the opportunity to present some outstanding equipment, such as the BWMini PSG and BWIII PSG Plus. BWMini PSG is small and compact and performs PSG Type I, II, III and IV tests. The BWIII PSG Plus has direct impedance check of the builtin amplifier at the bed head. It was certainly an excellent opportunity for Neurovirtual to present high technological solutions in the area of sleep medicine.