On November 16th, 2016, Neurovirtual participated in the 16th Latin American Sleep Congress and 12th Colombian Congress of Sleep Medicine; this event took place in Medellin, Colombia, at the Intercontinental Hotel, with over 350 specialists in attendance.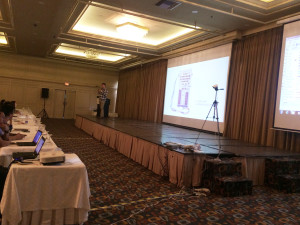 Before the Congress, Neurovirtual sponsored a type 1 Polysomnography workshop for 107 participants, presented by Dr. Eduardo Medina from Uruguay. During the lecture, one participant was connected to the Neurovirtual BWIII PSG Plus, allowing for a complete clinical experience. This live demonstration made a great impression on attendees, who really enjoyed how the topic was presented.
Besides offering support to the event, Neurovirtual also sponsored Dr. Facundo Nogueira, from the Argentina Sleep Society. Dr. Nogueira presented a lecture on home Polysomnography using our BWMini HST/PSG to demonstrate its clinical application to participants.
During the vendor exhibition, customers from Peru, Argentina, Panama, Puerto Rico, Mexico, and Colombia visited our booth, along with hundreds of other sleep specialists and technicians who had interest in our products.