You have probably already heard the expression, "Think globally, act locally", also called "glocal. " It is a term that has been intensified, thanks to the globalized and extremely connected world we live. Governmental institutions as well as individual people are invited to think more about the global impact of their individual actions. If globalization allows access to technology as well as knowledge, this would then amplify operational challenges, requiring companies to find new behaviors and dynamics.
Neurovirtual recognizes the weight of acting with a glocal perspective. For this reason, they are working to expand its operations and investments in several countries, being mindful to never set aside the personalized service and their mission to humanize diagnostics. As one of the five largest global brands for neurology and sleep medicine diagnostic equipment, Neurovirtual offers its solutions in all continents. More than 40 countries are acknowledging Neurovirtual as a worldwide company.

Recognition this wide is the result of many efforts over the years, developing initiatives such as:
• Analyzing carefully the strengths of each country with Neurovirtual operations for a strategic investment: The United States is the headquarters of development, engineering, technology and production areas.
• Working together with highly relevant associations in partner countries. This means an increase in relations with leading research companies, such as the Ohio State University and Stanford University in the USA; Asociación Colombiana de Medicina del Sueño (ACMES) in Colombia; and Universidade Federal de São Paulo (UNIFESP) in Brazil. Aside from Neurovirtual's partner and research-based companies, they also work hand in hand with healthcare institutions such as Capital Health Medical Center, Thedacare, and Cincinnati Children's Hospital, etc.
In this article, we bring together some main initiatives developed by Neurovirtual to face the growing challenges compounded by globalization.
American technology and worldwide certification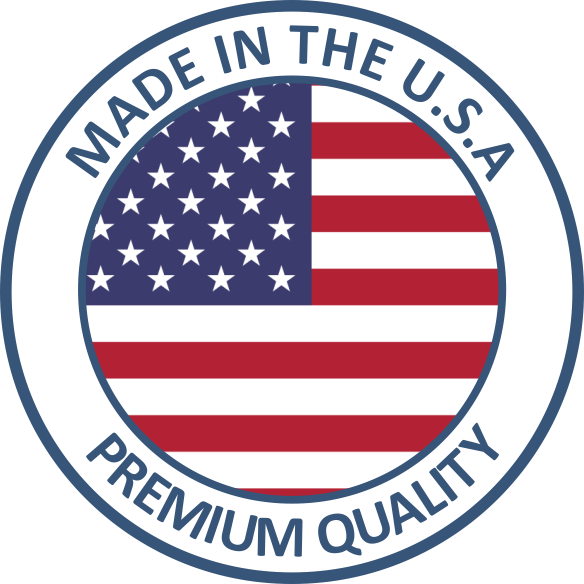 The entire engineering and production team is concentrated in the United States. This strategy allows bringing together the expertise of highly
trained professionals and innovative technology in the same place. This insures that the best neurology and sleep medicine solutions are being developed and delivered, BWIII, BWMini and the Compass, which is the entire sleep and neurology portfolio, and are produced at the Fort Lauderdale plant. The products are also inspected for quality control on- site and then handed over to the warehouse for packaging and shipping to customers.
Neurovirtual is proudly made in the USA
Production consolidation, quality control and logistics processes, as well as customer service occurs in Neurovirtual's Fort Lauderdale office, allowing for the creation of new jobs in the local community, growing the company's labor force by 25%, and providing better support to other US vendors due to domestic commissioning of many components.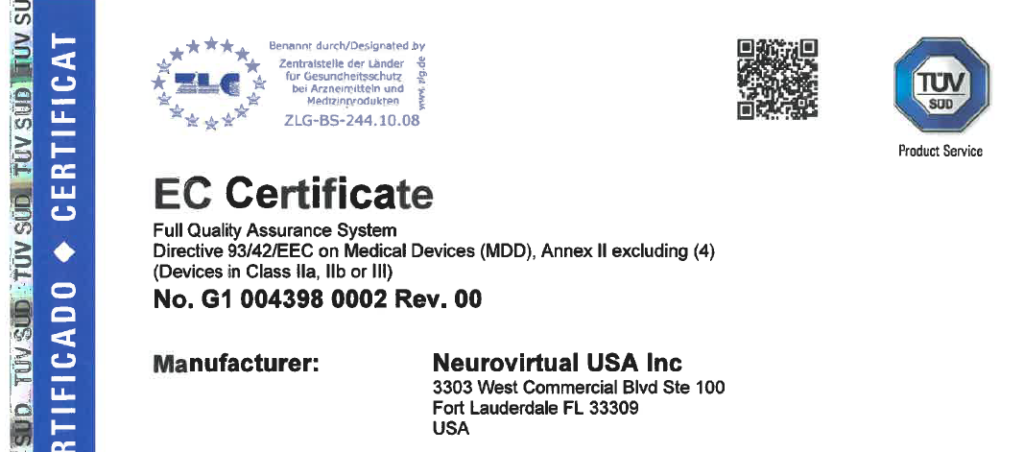 Equipment and supplies offered by Neurovirtual have certifications from main regulatory entities all over the world. The company's strict measures
for all facets and components, including design and manufacturing of medical devices, as well as quality management systems, was awarded the ISO 13485 quality certificate, used by the European Commission (EC) and Food and Drug Administration (FDA), to the Chinese Food and Drug Administration (CFDA) in China and many others around the world.
Currently, developers and engineers dedicate hundreds of hours a week programming the patented software, BWAnalysis and BWCenter. In order to deliver increasingly powerful solutions to their customers, this team is constantly seeking innovations to make this software more friendly and
complete. Neurovirtual also dedicates hours of customization according to customer feedback, ensuring an intuitive and accessible package for different demands.
Personalized Customer Service 24/7
One of their trademarks is the excellence of their customer service, with over a 98% approval rate currently. This is only possible because of the dedication over the years, always putting customers at the center of everything they do, trying to understand their difficulties and solve any setbacks that may impact their routine, all with agility and efficiency.
This exclusive Customer Service Assistance has specialized engineers ready to help customers all over the world. It is globally and technically supported in 14 countries, with expertise to offer extraordinary service no matter where. Additionally, this team can travel to install Neurovirtual's system personally, if required, anywhere in the world.
This commitment to results and gratification of their work is recognized by their customers: Mr. Carlo Noble, RPSGT, Sleep Lab Coordinator for NeuroTrials Research – one of the preeminent research facilities in USA – works daily with ten Neurovirtual systems installed in his facilities.
According to Mr. Noble "The software is very user-friendly. Neurovirtual customizes to our needs." This customization is only possible because of this Customer Service Assistance team. Mr. Noble also says that "The user-friendliness, 24/7 tech support, customization, and even the [hardware] design is very intuitive."
There are many clinics and hospitals that already know the advantages of working with Neurovirtual, such as the Ohio State University, Cleveland Clinic Florida, University of California San Francisco, Thedacare Regional Medical Center, Bellin Health, Cincinnati Children's Hospital, and Capital Health, among others.
Innovations in Marketing
Marketing communication work is set to establish a closer connection between customers and partners, an effort capable of positioning Neurovirtual as one of the main brands in the equipment sector for neurological and sleep research areas.
The marketing team builds bridges between the headquarters and other countries with the company´s operation, standardizing initiatives and developing innovative strategies to establish a fluid communication among different stakeholders. There are countless initiatives to consolidate this plan, such as Neurovirtual News Magazine, a publication that gathers major news about the sector and the company, in addition to interviews with renowned experts. Currently in the 34th edition, it is distributed in more than 20 countries and in three languages – English, Spanish and Portuguese.
Available since January 2012, it is published quarterly. Since 2015 it has been delivered in all congresses with Neurovirtual participation and sent to a database accessed by more than 7000 neurology and sleep centers across the Americas. Neurovirtual News has included the participation of Dr. Thomas Penzel, Germany; Dr. Diego Gárcia-Borreguero, Spain; Dra. Elza Márcia Yacubian, Brazil; Dr. Daniel Perez Chada, Argentina; and Carlo Noble, NeuroTrials Research, Atlanta, Georgia, USA.
A global company with local service
With great potential for growth and expansion, Neurovirtual currently has a commercial and mobile clinical presence in Central America and local service in several countries in North and South America.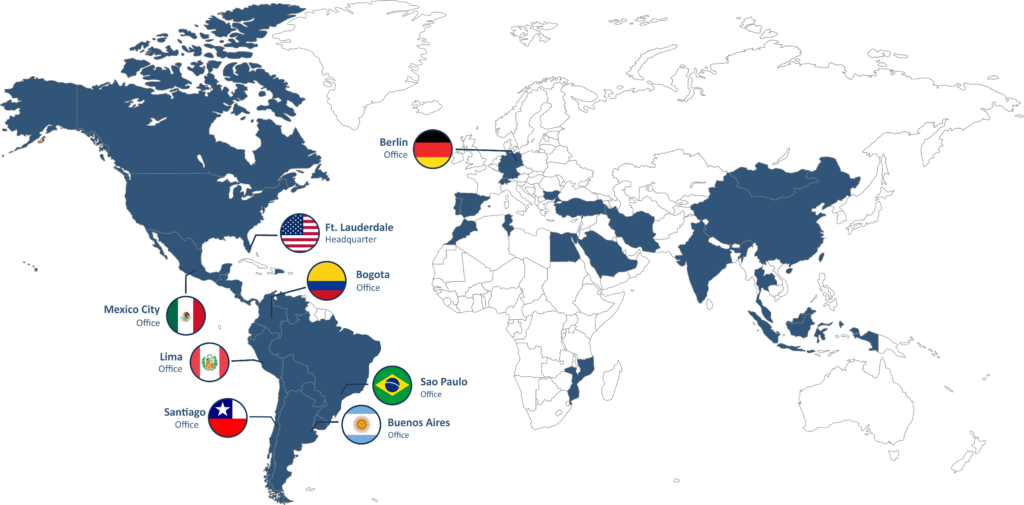 Another initiative has been participating in and holding events. Neurovirtual presents annually in approximately 30 epilepsy, neurology, sleep medicine and otorhinolaryngology congresses. This not only generates visibility to the brand, but also strengthens the solutions portfolio. The company also runs courses to disseminate information about EEG and PSG to specialists, opinion makers and students, all in partnership with medical associations in each country where the course has been applied.
Knowledge and training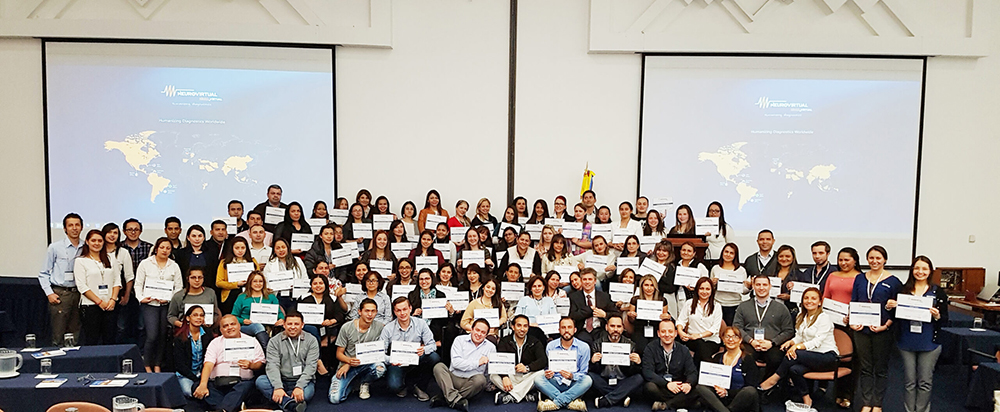 Establishing formal qualification and training processes for internal teams, clients and partners are essential to Neurovirtual. These initiatives are structured in two ways:
Internal team: Every year, technical, administrative and sales teams meet at Fort Lauderdale Training Center for the training of new products, launches, and technological innovations. The central point of these meetings is to exchange experiences. It is a qualified space to reflect and discuss challenges, market trends, and new ways to reach corporate goals, looking to evolve and innovate their customers' delivery in addition to helping patients. The aim is to stimulate innovation, disseminate knowledge, and keep the team focused on maintaining support, service, quality, and excellence. The event is also an opportunity to recognize best practices and results.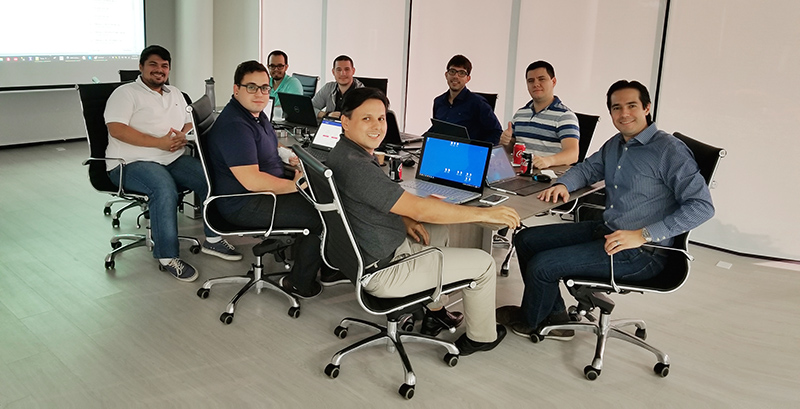 Customer courses: With official local institutions and associations like UNIFESP and ACMES it is possible to offer EEG and PSG training courses, an approach that aims to support scientific development and professionals, training those that work directly with patient care who are suffering from sleep disorders and epilepsy. Neurovirtual organized and sponsored more than 14 EEG and PSG courses in several countries, such as Indonesia, Chile, Dominican Republic, Brazil, Colombia, Mexico and Argentina.

Their tireless efforts are dedicated to providing continuous improvement, innovation, training, and excellence. The company recognizes the importance of delivering technological solutions and great experiences while carefully supporting the market. Only then is it possible to make a more humanized diagnosis, being sure that all the attention, time, and focus of each clinician is applied to what really matters: the patient.