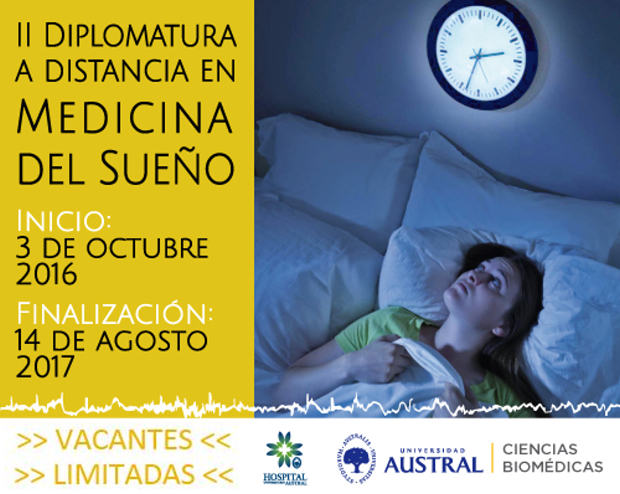 II Diplomatura a distancia en Medicina del Sueño
Directores:
Dr. Daniel Pérez Chada, Universidad Austral, Buenos Aires.
Dr. Daniel P. Cardinali, Pontificia Universidad Católica Argentina, Buenos Aires.
Dr. Arturo Garay, CEMIC, Buenos Aires.
Coordinadora:
Dra. Stella Valiensi, Hospital Italiano, Buenos Aires.
Profesores Invitados:
Dr. Joaquín Durán-Cantolla Servicio de Investigación del Hospital Universitario Araba, Instituto de Investigación Sanitaria BIOARABA, Facultad de Medicina. Universidad del País Vasco.
Prof. Dr. David Gozal
Herbert T. Abelson Proffesor and Chairman, Department of Pediatrics, Physician-in-Chief, Comer Children´s Hospital, The University of Chicago, Chicago, IL,USA.
Dr. César Liendo
Sleep Medicine Program, Department of Neurology, Louisiana State University School of Medicine, Shreveport, LA, U.S.A.
Prof. Dr. Birgit Högl Department of Neurology and Neurosurgery, University Hospital for Neurology.
Prof. Dr. Alan R. Schwartz
Professor of Medicine, Johns Hopkins School of Medicine,
Medical Director, Johns Hopkins Sleep Disorders Center (Bayview),
Co-Director, Center for Interdisciplinary Sleep Research and Education (CISRE),
Director, Sleep Medicine Fellowship Training Program.
Destinatarios:
Graduados universitarios en carreras universitarias vinculadas con las Ciencias Biomédicas (médicos, psicólogos, licenciados en enfermería, biólogos, etc.). La admisión será evaluada mediante la presentación del curriculum vitae de los postulantes. No se excluirá a otros titulados superiores para los que un sólido conocimiento en Fisiología y Medicina del Sueño es cada vez más importante.
Informes e Inscripción: Departamento de Posgrado, Universidad Austral
Te.:(54) 230-448.2574 / 2572 – Fax: (54) 230-448.2233 – Móvil: (54) 11 15-5414-6497 – posgradofcb@austral.edu.ar